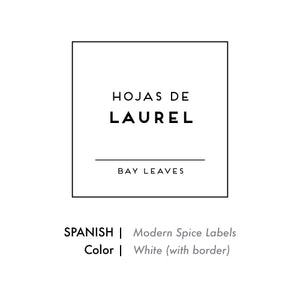 Our labels are professionally printed on an industrial printing press, providing our customers with a long-lasting solution to their organizing needs.
Each of our multilingual language packages have taken years of research and collaboration since 2013 with chefs, friends, translators and customers!
We are anticipating to ship out this PREORDER SET by the end of August. If you have any ingredients you would like to add, please enter them when ordering by August 6th. Please do not hesitate to email us if you have ANY questions whatsoever. Always happy to help! 
This set includes all the spice ingredients in our Signature Spanish Spice package. 
Size  /  1.75" inches square
Material  /  removable
Background Color  /  white
Text Color  /  black with a thin black border
For any other custom request, please see our Custom Labels section.